Welcome to the My own little pony Wiki
Edit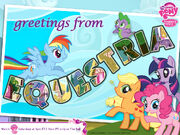 I'm showing the created ponies i made from "Pony creator full version." and it's better then the pony maker cause you can do much more then one pose, anyway enjoy.
Welcome (again)
Edit
If you just set your hoove's in this magical land of creativity (like the ponies) then you have come to the right place, here you'll see what ponies i've made so far and can comment on them.. but if there negative i will report you ok? if you don't like it i don't care i don't wanna see it in the comments, its like thumper said, "if you can't say something nice, don't say anything at all." (or nuthin) XD so learn some manner's it ain't gonna nip you in the butt. ok thanks you guy's for the consideration and please enjoy!
Ad blocker interference detected!
Wikia is a free-to-use site that makes money from advertising. We have a modified experience for viewers using ad blockers

Wikia is not accessible if you've made further modifications. Remove the custom ad blocker rule(s) and the page will load as expected.